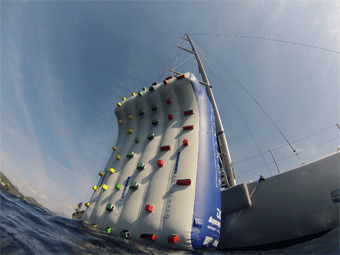 Green Yachts design team, following the needs of its world wide clients, has developed ,this innovative mega yacht toy produced and distributed in collaboration with Aquaglide : the inflatable Climbing Wall. Ideal to spend some time onboard in a different way, a real outdoors gym. The wall has three different route types, each one characterized by a different colour to indicate the difficulty. The courses have been designed by professional rock climbers and can be customized according to the customer
.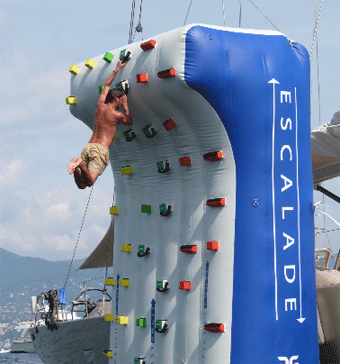 The holds of green colour are most easy and ergonomic, those of yellow colour have a medium degree of difficulty, while the holds of red colour are smaller and positioned in a way to make the climbing very difficult. This inflatable wall is an ideal product for yachts and megayachts , you can challenge your friends in climbing safely. Available in standard size 5m x 3m, can be totally customized to suit the shape of the yacht, with hikes to the peak either vertical and horizontal. You can decide the colours and the logo or yacht's name eventually. Climbing Wall is not just a game, it is also a healthy way to stay fit while spending onboard holidays.
Captain Alessandro of Wally Yacht says :
" All toys and games require some organisation and commitment from the crew, but unlike others, Climbing Wall turns out to be easy to handle, light and compact, manageable by two people in less time. Whenever we install Climbing Wall, all the boats that pass nearby slow down or stop to look at it and take photographs. When guests are racing to reach the summit of the wall, we hear the cheer of the yachts all around." From Crew Report Article
CUSTOM CLIMBINGWALL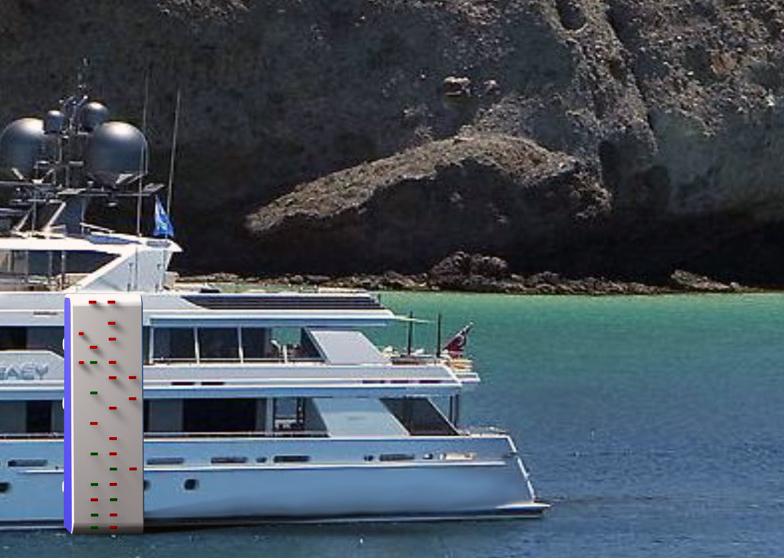 Available on request custom climbing wall to perfectly match clients needs and to match the yacht sides. Our team is at your disposal to design the right Climbingwall and to personalize the paths and routes difficulties with expert free climbers. Possibility of selection of colours and possibility to insert logos and yacht's name.
Easy to inflate and deflate, can be managed by just two person in few minutes and can be stored in small places when packed. The ORIGINAL Climbing Wall is a Crew Friendly Product.
For more information Contact us

The informaton shown in this website has no contractual value, the data in this website are to be considered as preliminary and for information only. We reserve the right to change our products , data and info without any notice.